Holiday Cards
Let Invitations & Calligraphy by Andrea customize your Holiday Cards. Be it personal or business, you can choose from a selection of Religious, Non-Religious, or Seasonal designs:
New Year's Valentine's Day St. Patrick's Day Passover
Easter Rosh Hashanah Thanksgiving Christmas Chanukah
Kwanzaa Your favorite holiday of the year
All Holiday Cards are available in various sizes with our wide selection of Fonts. Custom backings and liners to match are also available.
Envelope addressing is available to match your Holiday Cards in color and font.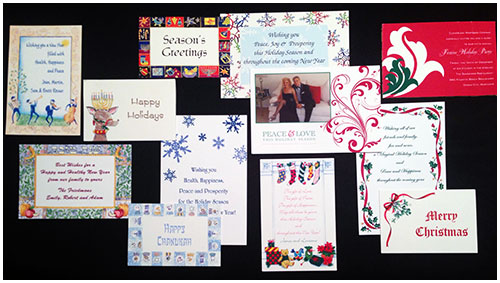 • Prices start at $1.10.
• Photo-imaging is available on your Holiday Cards.
• No minimum order is required.
Contact me at invitebyandrea@aol.com